Discover efficiency and accuracy with new tool library integration: Cimatron® integrates Sandvik Coromant CoroPlus® Tool library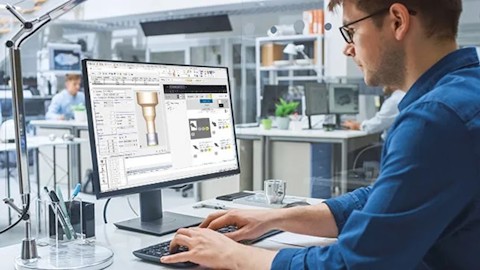 In today's fast-paced manufacturing world, staying ahead of the competition requires adopting cutting-edge technologies that streamline processes and enhance productivity.
Cimatron®, a leading provider of integrated CAD/CAM solutions, has taken a significant stride in this direction by integrating the powerful CoroPlus® Tool Library from Sandvik Coromant. This collaboration offers users an unmatched advantage by combining Cimatron's robust capabilities to achieve higher efficiency, accuracy, and cost-effectiveness for machining operations.
Achieve unrivaled productivity with CAD/CAM by staying competitive across your entire range of operations with integrated software that delivers major advantages for mold, die, and manufacturing shops.
Comprehensive tooling database
One of the primary advantages of Cimatron® integrating the CoroPlus® Tool Library is the access to an extensive and up-to-date tooling database. The library contains a vast range of high-quality cutting tools, inserts, and holders, along with their relevant technical information. This comprehensive database eliminates the need for manual data entry and ensures that users always have the latest and most accurate tooling information at their fingertips. This feature saves valuable time and effort in the tool selection process and minimizes the risk of errors.
Streamlined tool management
Effective tool management is crucial for optimizing machining processes and minimizing downtime. With the integration of CoroPlus® Tool Library, Cimatron® offers users a seamless tool management experience. By effortlessly importing tool assemblies and associated properties from the CoroPlus® Tool Library directly into Cimatron® and eliminates the need for manual input - ultimately reducing the chances of human error. Moreover, users can easily update and maintain their tool libraries, ensuring that they always have access to the latest tooling options.
Enhanced efficiency and accuracy
This new tool library integration equips users with powerful tools to enhance efficiency and accuracy in their machining operations. The library provides users with detailed tool information, including cutting data, tool dimensions, and 3D models. This enables precise tool selection based on specific machining requirements, resulting in optimized cutting conditions and improved overall performance. Additionally, the integration facilitates simulation capabilities within Cimatron, allowing users to verify tool paths and optimize machining processes before actual production. This preemptive approach reduces the risk of costly errors, tool breakages, and unnecessary rework, resulting in significant time and cost savings.
Real-time collaboration and data exchange
Collaboration between different stakeholders is vital in any manufacturing environment. Cimatron's integration with CoroPlus® Tool Library facilitates seamless collaboration and data exchange between designers, programmers, and machinists. Designers can easily access tooling information from the library while designing parts, ensuring compatibility and optimal tool selection right from the start. This information can be shared with programmers, who can further refine the machining process based on the tool data. Machinists benefit from accurate tooling information during setup and can provide valuable feedback to optimize tool performance. This real-time collaboration enhances communication and minimizes errors, resulting in faster turnaround times and improved overall product quality.
Learn more about Cimatron and Sandvik Coromant CoroPlus Tool Library
Cimatron
Since 1982, Cimatron® has provided toolmakers with an end-to-end solution for designing and manufacturing tools including molds, dies, and electrodes, as well as programming any CNC and EDM machine for molds, dies, plates, and discrete manufacturing. While Cimatron is at its most powerful when used as a fully integrated system, it also provides standalone solutions for faster quoting, tool design, electrode creation, and NC programming.
CoroPlus® Tool Library
Users of CoroPlus® Tool Library can get tools and cutting data recommendations, build tool assemblies and bring their work into Cimatron® in an integrated and intuitive workflow.