Sandvik invests in AI-based manufacturing software provider up2parts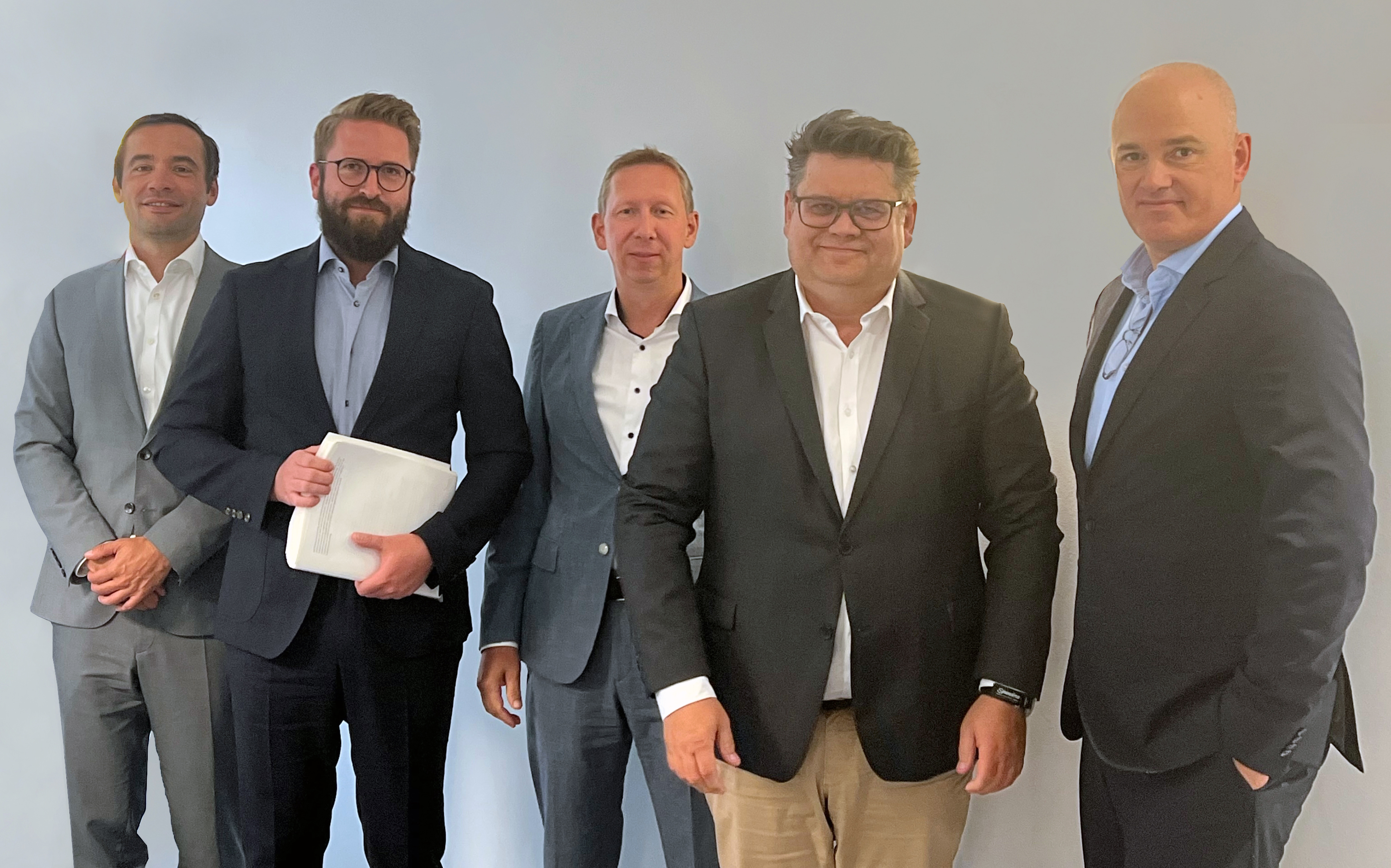 From left to right: Niels Fehre (Head of Corporate Investment Management, Schaeffler AG), Marco Bauer (CEO, up2parts GmbH), Thomas Krämer (Head of Advanced Production Technology, Schaeffler AG and Co-CEO, up2parts GmbH), Dirk Hullmann (Managing Director, Gildemeister Beteiligungen GmbH), Børge Anegaard (Managing Director & General Manager, Sandvik Holding GmbH).
Sandvik is acquiring a minority stake in the privately owned German company up2parts, a closed loop manufacturing software start-up with the aim of commercializing software that optimize manufacturing processes.
up2parts is a German start-up supporting enterprises with AI-based software solutions for autonomous and sustainable manufacturing. These solutions will simplify future manufacturing flows, from design to quoting and CAM (Computer-Aided Manufacturing). The cloud solutions developed by up2parts are iterated and validated in association with its sister manufacturing facility, MAB GmbH, which is part of the Lighthouse program for Sandvik Manufacturing Solutions.
The objective of up2parts is to combine human cognition, AI and knowledge with standards to perform autonomous work plan creation, quoting and CAM programming, addressing one of the biggest pain points in manufacturing: the lack of skilled workers.
"Generative AI has rapidly evolved as a technology for manufacturing and will play an important role in the future of closed-loop manufacturing. Our investment in up2parts will fit Sandvik's ambitions in leveraging cloud and AI technologies to solve the automation needs in CAM and thereby simplify manufacturing," says Magnus Malmström, Chief Technology Officer at Sandvik Manufacturing Solutions.
Sandvik's investment is made simultaneously as German-based Schaeffler Group, who has engaged up2parts and DMG MORI to digitalize tool manufacturing in its facilities worldwide.
"The strategic investors Sandvik and Schaeffler not only strengthen our financial base, but also bring valuable expertise and market knowledge. Their expertise will help us make our vision of a digital and efficient manufacturing landscape real. We are convinced that this strategic partnership will lead to a promising future. Together, we will fully exploit the potential of digital manufacturing and set new standards in the industry." Marco Bauer, Chief Executive Officer at up2parts GmbH
"The investment will enhance the collaboration between industry-leading companies that share a common ambition to meet evolving customer expectations of simplified manufacturing through AI-based automation," adds Magnus Malmström.
The parties have agreed not to disclose the purchase price.
Stockholm, 7 September 2023